Blades Take 2-0 Series Lead, Stewardson Records Shutout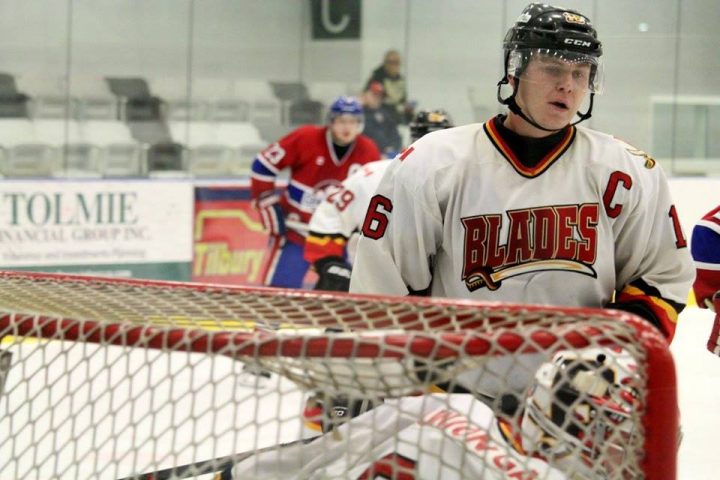 A mere 48 hours after scoring his first career GOAL, Eric Stewardson recorded his first career playoff shutout, stopping all 33 shots he faced to help propel the Blenheim Blades to a 2-0 series lead over the number one seeded Lakeshore Canadiens.
The Blades played an inspired sixty minutes, with impressive hustle, a blue collar work ethic, tight checking and aggressive play through the neutral zone. It doesn't hurt when Owen Bateman is your number one defender and plays an Owen Bateman-esque game yet again.
Dustin Maines opened the scoring on the powerplay, using his big body in front of the net, 4:57 into the first period, set up by Kier Cumming and Bateman.
Lakeshore never seemed to hit their stride and didn't appear as the dangerous offence they're known for, despite their 33 shots and some quality scoring chances, forcing Stewardson to come up big.
The Blades scored four more in the second period to send the Habs to the dressing room shaking their heads after 40 minutes.
Brayden Hopkins dominated; as he did throughout game two; on a play down low, setting up Braeden Allore's first playoff goal to make it 2-0 3:23 into the second. Drew Marlatt responded with Blenheim's second powerplay goal, off of a John Montgomery shot. Michael Vanek's first goal of the post-season was only three and a half minutes later, set up by APM's Seth Henderson and Nick Tetreault, who earned some extra ice time on Sunday night. Matt Clark's heavy wrister made it 5-0 at 17:26 of the third, Clark's fourth of the playoffs.
Clark also set up Dustin Maines for a beautiful three-on-one goal in the third, the Tweed native's second of the game.
Blenheim was two for six on the power play while Lakeshore was 0 for 9. The Canadiens came into the game with the number one ranked powerplay in the entire PJHL.
Lakeshore's Colin Tetreault was pulled mid-way through the second after allowing the third goal of the game on 17 shots. He was replaced by APM Jared Ratko who stopped 13 of 16, including a couple of big chances in the third.
Blenheim's Nick Delyzer had a goal waved off after it was ruled he used a kicking motion to score in the first period. Austin Bentley returned to the line-up after missing a game and a half with an upper body injury. Bentley looked no worse for wear with two assists, his usual aggressive play and several shots on net. Owen Bateman added two helpers on top of his usual A+ defence. Dustin Maines finished with two goals and an assist.