Chad Laprise Making Welterweight Debut in UFC 213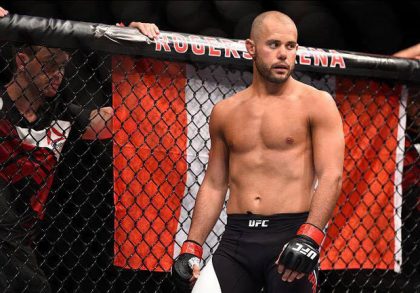 Submitted by: Dwight Wakabayashi
Canadian Mixed Martial Arts fans need something and someone to get excited about, and this weekend's double dip of fight cards for International Fight Week in Las Vegas is set up perfectly to deliver on the goods. The Ultimate Fighter: Redemption Finale will take place on Friday night July 7th, and UFC 213 will follow the next night on Saturday July 8th. Both events will take place at the T-Mobile Arena right smack in the middle of the Vegas strip.
2017 has been an extremely slow and uneventful year for Canadian fighters inside the Ultimate Fighting Championship. With seventeen fight cards held under the UFC banner since January, including over 180 fights, our flag bearing fighters have only been involved in nine fights so far this year. It is no secret that mixed martial arts' popularity in different countries is directly tied to top fighter performance, and Canada needs some contenders fighting at the top to ignite the passion inside fans who have been used to cheering for top dogs like Georges St-Pierre (GSP), Rory MacDonald and Patrick Cote for years.
To make matters worse, the spotlight shining north of the border right now involves the tragic death of Canadian heavyweight Tim Hague, and the gross negligence and lack of oversight displayed by the ECSC (Edmonton Combative Sports Commission). The commission has long been investigated for negligence by respected Canadian MMA journalist Mike Russell, and you can follow his incredibly tenacious reporting  here on realfightstories.com.
Fans are also waiting in anticipation for a concrete date set for the long ago announced return of GSP, the country's most beloved former champion. In the meantime, fans of Canuck fighters can finally get jacked up for a fight-filled weekend, loaded with some of the best Canadian fighters today.
Three of Canada's top fighters will all be in action at T-Mobile, in fights that will determine if they can be pegged as contenders or pretenders for the remainder of the year.
CHAD LAPRISE – UFC 213: SATURDAY, JULY 8TH
Chatham-Kent's own TUF Nations winner Chad Laprise (12-2) will be making his welterweight debut on the UFC 213 card as a late replacement against California native Brian Camozzi (7-3). After suffering the first two losses of his career, Laprise is coming off a bounce back TKO victory over Thibault Gouti that set him back on track last August. The win was not all positive, as Laprise missed the 155 lb. lightweight weight limit for that fight, a first time miss that pushed his decision to move up to welterweight.
This will be Laprise's first fight in the UFC welterweight division, and he will be looking to utilize his speed and impressive technical striking to bring Camozzi down to size. A victory here will make a two-fight win streak and put him just outside the top twenty in the division. One more victory before the end of 2017 and Laprise could find himself fighting a top ten contender to start 2018.
For more on this story, visit the Waka Fighter MMA blog.