Blades Add Veteran Defenceman
The Blenheim Blades have made their first roster move since the start of the season acquiring veteran defenceman Bailey Norman, 19, from the Morrisburg Lions of the National Capital Junior Hockey League.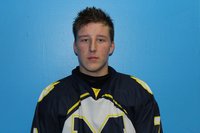 Norman, who is currently attending the agricultural college in Ridgetown, hails from Lunenburg, ON, and is in his third season of Junior hockey.
He has played four games this season with the Lions scoring a goal and adding two assists while picking up 18 minutes in penalty minutes.
Last season he played in 25 games for the Lions scoring seven goals and racking up eight assists for 15 points, along with 60 penalty minutes.
Norman, who stands 5' 9" and weighs in at 190 pounds, started his Junior career in 2016 playing five games with the North Dundas Rockets of the NCJHL.
The Blades now have 23 carded players; the number allowed by the Ontario Hockey Association, but on Dec. 1 will be able to free up a card when veteran forward Nick Delyzer is put on the injured reserve list for the rest of the season.
Delyzer, 20, had the Achilles tendon on his right ankle sliced early in the season opening game Sept. 16.
Article submitted by the Blenheim Blades.