Locals Weigh In On Arena Upgrades
A $2-million renovation to the Wallaceburg Arena is expected to sustain the aging facility for the next 15 to 20 years.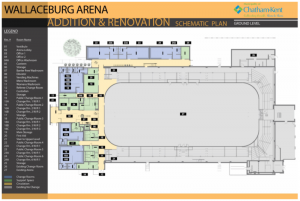 About two dozen interested residents attended a public meeting at the rink Wednesday evening.
One of them was Matt Glover, who would like to see an improvement to the upper area overlooking the ice to increase sightlines.
"I just wanted to make sure they had the community's interest in mind," Glover says. "Everything looks good on paper, but to actually be in the arena and see how it all works, that counts for a lot more."
Facilities Supervisor Jane McGee says it only makes sense that those who use the arena the most should have a say on the final configuration.
"The best people to give us that information are our user groups, they see it day in and day out, and when they share "we don't like that combination happening, that puts a referee or another player or an away team at risk" then we try to tweak that."
McGee says all suggestions from the meeting will be considered and changes could be made before a final design is decided upon.
It's hoped the first phase of the project can go out to tender soon and construction could begin by mid-October.
While construction is going on, the Wallaceburg Red Devils and minor lacrosse program will be displaced next summer.  They've been offered Dresden as an alternative home arena for the 2019 season.
With pre-season PJHL hockey kicking off next week, the Wallaceburg Lakers will play their home games at the Walpole Island Sports Complex.