Destiny Pailey, A Chatham-Kent Athlete Who Came baCK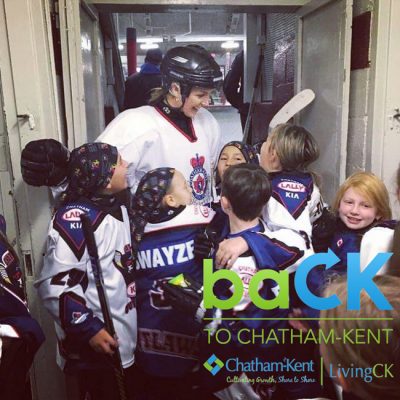 Chatham-Kent sends athletes across Ontario, Canada, and the globe each year to compete athletically. Sponsored by baCK to Chatham-Kent, we'll be featuring local athletes who have left Chatham-Kent, and are now baCK, living, working, and staying connected to our own vibrant sports community in CK.
This week, we feature Destiny Pailey (now Destiny Johnson). A former OUA hockey player, who is baCK in Chatham-Kent working as a police officer. Here are Destiny's responses to our baCK to Chatham-Kent athletes interview:
1. Where did you grow up?
I was born and raised in Chatham-Kent.
2. What is your favourite Chatham-Kent pastime?
My favourite past time in Chatham-Kent is participating or watching all the different sports I have come to love over the years.
3. What did you do after high school?
I attended the University of Windsor to study psychology and also focused on criminology and sociology. I played hockey for the Windsor Wildcats and the University of Windsor Lancers women's hockey team. I continued on to play for the London Devilettes Senior women's team.
4. What are you doing now?
I still live in the Chatham area and I am currently a police officer for the Chatham-Kent Police Service.
5. What has made you happiest, or been the best surprise about moving baCK to Chatham-Kent?
After moving back home, I continued to referee hockey which connected me to the love of my life. He has helped me work towards and achieve my dream career and we are now married.
6. What would you tell someone who is considering living in Chatham-Kent?
Chatham-Kent is made up of communities that are welcoming and offer lots to discover. There is always events and a range of activities for any age.
7. Why did you choose to move baCK to Chatham-Kent?
I moved back to Chatham-Kent for my family and friends and shortly after secured my position as a police constable.
8. Describe your current sports involvement?
I continue to play my favorite sports, from slo-pitch baseball, recreational volleyball, pick-up hockey with work friends and the occasional hockey tournament with the Chatham-Chill Senior women's team. Over the last ten years I have coached and assisted youth hockey teams; this year I am coaching my step-daughter and the Chatham Novice Crush girls hockey team. I'll watch any team and love a good game but at heart I am a Detroit Red Wings and Tigers fan!