It's A Woman's Game, But It's A Man's World
In the world of sports, games, leagues, and tournaments are often defined by gender, or identified by gendered terms – at least when women are involved.
On the men's side, you almost never see this delineation. What do these words show? They signal that although some sports are played by women, those sports are for men, in a man's world.
Let's take a look at this gender marking as it exists in comparable leagues.
National Hockey League vs. National Women's Hockey League.
National Basketball Association vs. Women's National Basketball Association.
There is the PGA, and the "Ladies" LPGA.
National Women's Soccer League vs. Major League Soccer.
Why is one classified by gender and not the other?
It's because more value is placed on men's sports leagues and men in sport.
It implies superiority and inferiority. It applies owner and tenant.
Should we be classifying it all – for example, National Men's Hockey League – or should we classify none?
Let's look at an example of an event, instead of a league – the World Cup of Soccer. The men own this one as well it appears. Below you'll see a search for the World Cup. One is the World Cup and the other is the women's World Cup. And this is according to FIFA's own website.
Gender marking occurs in the logo for the World Cup as well. The image on the left should clearly state Men's World Cup to be equitable.
In Canada, we see it in Junior hockey. Nowhere will you see the word "mens" or "boys" in a league or organization name. The Ontario Hockey League is just the Ontario Hockey League, but the top loop in the Province for women is the Provincial Women's Hockey League.
At the NCAA level, the recently completed basketball national championships took the ire of the media and public for unequal weight rooms, gift bags, COVID-19 testing, food, and more.
But the mere name also implies the women's game is inferior. The "March Madness" name is reserved solely for the men's side of the sport, despite the fact the two tournaments are run by the same governing body at the same time of year. Similar to the World Cup, even the NCAA's Final Four logos had gender markers for the women's side…but not for the men's.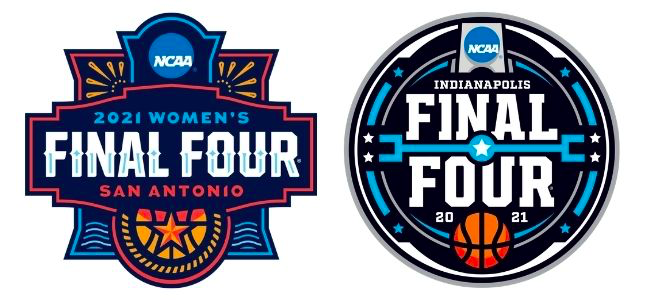 This taxonomy, according to research keeps men's sport as the standard, while the language used in labelling such events keeps women's sports as "other" or secondary.
The norm is the devaluing of sport played by women by attaching gender to it, while sport played by men, takes ownership of the sport itself.
It might seem like a minuscule item for some, but if you're a person thinking, "who cares," you're likely a man, or a person of privilege. Otherwise, it signifies a missing link in our education system where we fail to effectively teach the importance and power of linguistics, and language components including pragmatics, syntax, and semantics.
The sport of hockey is the sport of hockey. Yes, there are some differing rules between women's and men's leagues, but the sport is the sport. And if you use the argument of differing rules as a reason for the necessity of saying "women's hockey," then we should also be saying "men's hockey" whenever we refer to the NHL, World Juniors, OHL etc.
When we are looking to empower young women, and keep them engaged in sport, these subtle divisions show that one is the ultimate, and the other is a subclass. This is not true. There is an ultimate level on either side of this fence, and both should know those are of equal value. They should not look at the NHL or NWHL and immediately be able to recognize inferiority, even subconsciously through a name alone.
Words matter. Language matters.
Microaggressions and these classifications diminish sport played by women. It gives ownership of sport to men, and 'allows' women to play it.
The sport itself, the pucks or balls or ice or field cannot be gendered. The sport itself is already the ultimate of itself. An inanimate object has no gender. Classifying the sport by gender, objectifies the participants, and creates a visible caste system.
We also have the system of inserting gender markers into team nicknames for women's, but not men's teams.
The Tennessee Lady Volunteers, Georgia Lady Bulldogs, Texas Tech Lady Raiders…and the list could go on and on as dozens of schools practice this dissociation.
The way media represents sport is crucial in rectifying these gaps. If media are going to write "girls hockey," or "women's hockey", media also should write "boys hockey" and "men's hockey." It's that simple.
Or, they write neither; they write "hockey," because hockey has no sex, and hockey has no gender. It is a game.
In discussion of athletes, media also need to ensure the default category is not tied to men. For example, when reporting on the greatest tennis player of all-time, Roger Federer is not the only athlete in that discussion. Yes, he may be the top men's player of all-time, but he is not the only all-time great.
In the words of Serena Williams, "We should always be judged by our achievements, not by our gender. People call me one of the 'world's greatest female athletes.' Do they say LeBron is one of the world's best male athletes? Is Tiger? Federer? Why not?"
When  Sabrina Ionescu scored 2000 points, 1000 rebounds, and 1000 assists for the Oregon Ducks, she was the first player in NCAA history to record the feat. Period. See how easy that was? It didn't need to be said that Ionescu was the first player in women's NCAA basketball history, she was the first player, period. Ionescu's accomplishment is mind boggling and incredible regardless of the gender of the athlete.
When Andy Murray won the 2013 Wimbeldon tennis tournament he was hailed to be a National hero as the first British winner of the tournament in 77 years. The problem was, Murray wasn't the first winner in 77 years, he was the first winner in 36 years, because Virginia Wade won the tournament in 1977. This claim both renounced and erased the existence and personhood of women in sport.
So what is it going to be? Are we going to remove all gender labels from sport? Or are we going to evenly refer to men's sport and women's sport consistently as men's sport and women's sport?
Understandably having two National Hockey Leagues and two National Basketball Associations would be confusing.
Leagues and players associations need to get creative; they need to work collaboratively as sports. Basketball players working with basketball players, hockey players working with hockey players, of all genders.
Perhaps the same name with different logos? Or simply add an identifier like National Hockey League (M) when referring to it in writing. People will know what league you're talking about when you say the Boston Pride faced off against the Toronto Six, compared to the Boston Bruins faced off against the Toronto Maple Leafs. It really isn't difficult. With those teams being from the NHL (W) and NHL (M) respectively.
If it's still too confusing, and society is in fact tied to the taxonomy of gender in sport, perhaps we could call them conferences.
For example, the National Hockey League and National Basketball Association could feature a men's conference and a women's conference.
The gendering of sport in media and throughout leagues, and the gendered taxonomy of sport has been lopsided for far too long. It is not acceptable to place one as the ultimate and the other as the subsidiary.
Currently, it's a man's world, and women are just playing sport in it. Or at least that's what our words would show to be true, and it's time that changed.
---
By Ian Kennedy
---
Line Change is an article series produced by CKSN.ca through the contributions and consultation of various authors and academics, looking at social issues in sport. The series, which aims to open discussion with sports fans, will focus on issues of inequality, and serve as a portion of our anti-oppression education and reporting. Line Change will look at issues related to racism, sexism, homophobia, transphobia, gender inequality, socioeconomic divides, and much more, as they relate to sport and athletics.