Line Change: A Picture Is Worth A Thousand Words Of Bias
Have you ever done a Google Image search for your favourite hockey player?
If you are searching for a player from a men's league, your results will look drastically different than searching for a player from a women's league.
How so? Well, after reading an article by the brilliant Dr. Courtney Szto and Brett Pardy on gender norms in sports photography, I went on the same search, and was disturbed by the findings, which echoed Dr. Szto and Pardy's.
Here are some of the quick differences:
Number of photos of the player actually playing a game (which we defined as fully equipped, including a helmet, on ice for a practice or game)
Number of photos with their helmet on in any situation
Wearing a jersey for a team photo, playing, or media
Photos of the player in street clothes
Photos of the player in various stages of undress (which we used the bellybutton test…if the belly button was visible, it fit this category)
Photos involving the players' spouse/partner
Photo selling memorabilia of the athlete
For our sample we searched Sidney Crosby, Auston Matthews, Nathan MacKinnon, and Connor McDavid on the men's side, and Hillary Knight, Meghan Agosta, Marie-Philip Poulin, and Kendall Coyne Schofield on the women's side.
If you couldn't guess, men were far more likely to be pictured playing at 83.13% in their first 20 photos, while women were only shown playing in 6.25% of their first 20 photos.
When it came to simply wearing a jersey, men were in uniform for 98.13% of their first 20 photos, while women were in uniform for only 65.63% of their first 20 photos.
It's obvious there is a disparity between sports photography, and search habits related to men's and women's sports.
While it obvious to the eye, it should also be an obvious difference of the biased manner in which media covered men's versus women's sports and athletes.
Let's take a look one by one of the examples using the criterion above, and making mention of any other non-hockey items that might pop up.
It takes until photo #139 to find Crosby in street clothes dressed for a photoshoot. We travel down to photo #201 to find Crosby's wife. The bulk of the rest are Crosby suited up for the Pittsburgh Penguins. Of note, as you scroll through Crosby's image search, you'll also find memorabilia such as jerseys, signed items, and bobble heads. There is a complete absence of memorabilia for any of the women's players.
It only takes to photo #6 to find Knight in street clothes, and it takes until photo #28 to see Knight playing in a game (only one photo after Knight's nude photoshoot for Sports Illustrated's Body Issue). On the bellybutton test, photos #12, #13, #19, and #22 meet the criterion.
Connor McDavid's first 20 photos, like Crosby, show him wearing his NHL jersey in every photo. At photo #22, we see McDavid sleeveless for the NHL combine. At photo #38 we get McDavid for a GQ photoshoot. Again, lots of memorabilia the farther you scroll.
For Nathan MacKinnon, you have to go a whopping #309 deep to find a personal photo. Prior to that there is one of him playing basketball on NHL.com, but it takes until 309 to see him outside of a sports setting.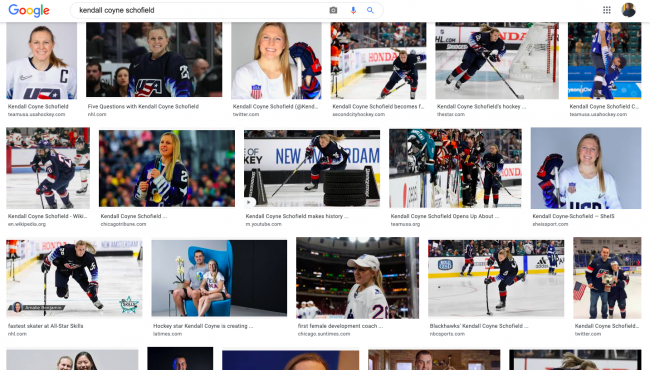 Coyne-Schofield's results are a little different than others, as we get a game photo only #7 in. The vast majority of her photos in the early goings (8 of 20) are from the NHL's skills competition, where Coyne Schofield competed in the fastest skater event. 4 of the first 20 show Coyne Schofield with her husband, including image #6, which is for an article titled "Kendall Coyne Schofield Changes Landscape of Women's Hockey in One Week" with the image being of Coyne Schofield's husband holding her in the air while celebrating an Olympic gold medal. No bellybuttons visable.
Photo #1 is a game shot. It takes until photos #17 and #18 to get to street clothes for Poulin, but the helmet off percentage here screams at the veiwer.
Analyzing Agosta's, picture #1 shows her working a non-hockey job. We only need to get to pictures #4 and #5 to see her in street clothes. Photos #11 and #14 show Agosta in her wedding dress. And the montage that is photo #13 is a link to an article titled "31 hot photos of Megan Agosta are just paradise to view" and you only need to get to photo #19 to see a bellybutton.
We can get to a photoshoot of Auston Matthews at #29 for GQ, and again at #113 for Sharp Magazine. Everything in between? Hockey, hockey, hockey. Now there is a selfie in full practice equipment with Justin Bieber that comes in at #6, so that's something.
Overall, only men's players had memorabilia in their photos, and had a disproportionately lower showing of photos without a jersey on, including showing any part of their body other than their faces (to clarify, we fully support anybody showing their bodies, and making choices on their bodies, we only bring this up to show the uneven focus of media and sports photography between men's and women's sports).
Women's photos were far more likely staged with no helmet on, and featured family members, or were tied to articles about actions off the field of play, and many photos could be considered sexualized.
If you question the bellybutton test, it's not like photos of these athletes don't exist, they just don't appear in searches about the athlete without adding very specific key words… like literally typing "Sidney Crosby shirtless." See —>
What conclusions can be drawn from this?
Much of this is related to Google itself using algorithms to display women as objects, rather than athletes. This in itself is horribly wrong.
It's hard to imagine a little girl watching her first NWHL game recently, and then Googling a star player to find photos of them not playing hockey….a problem young boys watching an NHL game won't run into.
While we don't have an answer, one thing is for sure – the way women in sport are portrayed needs to change. Young athletes need to see it to be it, and that means showing these incredible athletes in game action.
---
Line Change is an article series produced by CKSN.ca through the contributions and consultation of various authors and academics, looking at social issues in sport. The series, which aims to open discussion with sports fans, will focus on issues of inequality, and serve as a portion of our anti-oppression education and reporting. Line Change will look at issues related to racism, sexism, homophobia, transphobia, gender inequality, socioeconomic divides, and much more, as they relate to sport and athletics.