Maroons Stun Nationals
By Wyatt Williams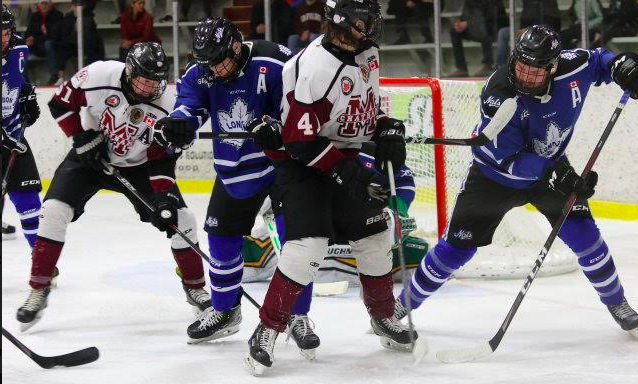 On a night when everything seemed to be on cruise control for the
London Nationals, it all fell like a house of cards starting at the 11:17
mark of the third period. Trailing by a 3-1 score, Maroon defenseman
Noah Szabo beat Nats goaltender Owen Flores high glove side from the
point to cut the lead to 3-2. Flores had been rock solid till this point of
the game, stopping many close in shots by Chatham.
With 3 minutes remaining in the game Chatham made the gutsy
move and sat goaltender Nolan Dekoning for the extra attacker. The
move paid off, as Cameron Welch was able to get a puck to the back of
the net, tying things up at 3-3. It looked like overtime was in the cards,
but at 18:40 , Lucas Fancy put the home team up for the first time of the
game. London now trailing 4-3, would get their goaltender out for the
extra attacker but was unable to mount any chances.
London scored the first goal of the game at the 4:05 mark of the
1 st period beating Maroons starter Luka Dobrich. Chatham Cameron
Symons tied things up at 7:38. The Nationals would score the next two
on goals by Nicholas Beaupre and Ryan Bowers , and driving Dobrich
from the Maroons net. Dekoning would come in at the 16:31 mark and
not allow a single goal, helping to drive the Maroons comeback.
Dekoning stopped 28/28 shots, Flores of London went 47/51.
The Maroons now have a commanding 3-1 leads in the series, with
game five tonight (Wednesday), in London, 7 PM.
Pictured above: Maroons forward Cameron Welch (#51) tries to get his
stick on the puck in the feet of team-mate Bryar Dittmer (#47) in front
of the London net. Welch appearing in his first game of the series due to
a suspension scored the tying goal late in the third period in Chatham.