Two wins give Tilbury Bluebirds the lead in semifinals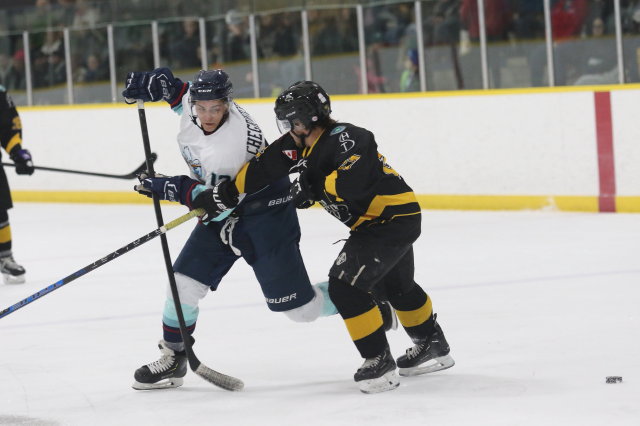 By Wyatt Williams
The Tilbury Bluebirds now have a 2-0 lead over the Tillsonburg Thunder in their Western Ontario Super League semifinal series following two wins on the weekend.
Things were a little more interesting for game one of the series, played Saturday night in Tillsonburg.
In Game 1 on Saturday, the Bluebirds had built up a 3-0 lead after two periods but gave up three goals in the third to force overtime. Fortunately for the Birds, Stephan Crevier would score at the 17:08 mark to end the game and get the win.
Ryan Roth, Mitch VanTeeling and Vyacheslav Chegrintsev scored the three goals for Tilbury during regular play. The Thunder had goals from Jake Brown, Brendan Varletta, and Mich Green.
On Sunday night at home, the Bluebirds hammered Tillsonburg for a convincing 5-1 win.
Tilbury's captain Dylan Denomme had a big night, netting a hat trick. Denomme's first goal put the home team up 1-0 halfway through the first period. It stayed that way until four minutes into the second when the Thunder's Jamie MacQueen tied things up at 1-1.
At 12:37 Vyacheslav Chegrintsev would score what would prove to be the game-winner. Tyler Lawrence and Denomme would score to give the Bluebirds a 4-1 lead heading into the third period. Denomme would get his third goal on the night while shorthanded, with Tillsonburg's goaltender on the bench for the extra attacker.
Ryan Polidori was in the net both nights for two wins, while Matt Sagrott took both losses for the Thunder.
The series resumes on Saturday, March 25, at 7:30 p.m. in Tilbury, with Game 4 back in Tillsonburg on Sunday, March 26 for a 4:30 p.m. puck drop.