Shrewsbury's Not-So-Secret Basketball Court Keeping Local Stars Sharp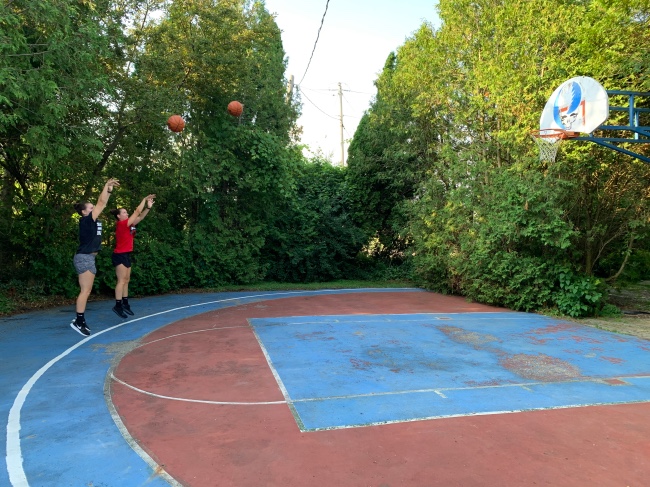 Secret isn't the right word for Charles Peet's basketball court. Because if you're a serious women's basketball player from Chatham-Kent, chances are you've stepped on the court, or know someone who has.
Without gymnasiums or public basketball courts available during COVID-19, basketball players were taking to their driveways, and searching for an open court.
Enter Charles Peet, a court built roughly 25-years ago, a love for basketball, and a lineup of talented basketball players looking for a place they could shoot.
One of the first to step on the court this season, was Bridget Carleton, who Peet said kept the court busy.
And so, hoping to help Carleton, a second year WNBA player with the Minnesota Lynx, and a member of Canada's National Women's Team, Peet went about cleaning up his court, pruning the surrounding trees, and even painting on a WNBA regulation 3-point line.
"Bridget used the basket regularly through May and June until it was time for her to head off to the WNBA. She is a pro. There is a distinct pleasure in watching a player shoot long 3's, swish after swish after swish," said Peet, who has coached with the Chatham-Kent Wildcats basketball program for a decade.
"Bridget would practice and sometime send her workout video to her WNBA coach."
Carleton wasn't the only local star to step onto the court.
The Kucera twins, Logan and Jana, who are both OCAA All-Stars, who play for the St. Clair College Saints, are regularly utilizing the court to train.
As is University of Windsor Lancers basketball member Maggie Denys.
It isn't just the areas current stars, but also up and comers including Elliott Cowan, who plays for the UCC Lancers, and is widely considered one of Chatham's top up and coming female athletes.
For Peet, he was thrilled to be filling a void for this group of athletes, who needed a safe place to practice, while respecting restrictions put in place by COVID-19.
"I realized I could offer something many basketball players needed; a safe, controlled, private, sheltered basket where physical distancing was possible," Peet explained.
"I extended invites to local players who did not have access to a basket with long 3-point capabilities. The basket now sees use from several top Chatham-Kent players."
Peet is also glad to be able to provide local women's athletes with an edge, as he's become an avid fan, and advocate for the women's game.
"For the past 10 years I have coached girl's basketball for the Wildcats. I have been a WNBA and women's basketball fan for many years. I am always on the move watching basketball, looking for good games and women's basketball has provided me with high quality hoops and quality games, more so than men's – less ego more team."
As a coach himself, and lover of the game of basketball, Peet knows that it is a game where practice and repetition are crucial to success.
"Basketball is a game where you practice according to your aspirations; the best players practice the most."
Which is why it is no wonder that Chatham-Kent's top basketball players are flocking to this basketball hideaway.
Now, with his court being regularly used, Peet is again seeing the sport he loves first hand, even in a time when leagues and sports are fighting to find a way to safely return to play.
For Peet, he instantly loved basketball.
"I fell in love with basketball from the very first bounce."
Luckily for Chatham-Kent's basketball community, Peet is doing his part to keep that love for the game alive in others, one bounce at a time.