Jordan Kniaziew Knows The Importance Of Education For Athletes
Jordan Kniaziew has been many things – student, businessman, hockey player. And he believes that if more young athletes can strike the right balance between academics and sport, opportunity and success awaits.
"I've seen different players that I've played with and against that had opportunities. Some of the most successful players I played with are the ones who focused on school and were able to leverage school with sport and were able to extend their playing career by going to University," said Kniaziew, who is the Vice President of Business Development at Kniaziew Optometry, which now has locations in Chatham, Blenheim, Wallaceburg, and Essex County.
"There are a lot of different options through University sport, and having the ability to focus on school while you're in Junior and while you're playing hockey, and to know that this is a good path and is something that is attainable to a lot more people than trying to make it as a pro."
Kniaziew would know.
He followed this path, playing for the Wheatley Sharks and Leamington Flyers, before accepting an opportunity to play NCAA Division III hockey for Lake Forest College near Chicago.
"Pro is maybe not as attainable for as many as focusing on your grades and using sport to help continue your career and help create more opportunities through sport and schooling."
This experience of leaving home to live and study in the United States, followed by a brief stint in Germany, not only earned Kniaziew a degree in business, but it broadened his horizon, and taught him an important lesson about where he grew up.
"I was a home body growing up in Essex County and Chatham-Kent, and never really left home until I went away to school in the US. That really opened up my eyes to different cultures and different ways of life," he explained.
"I think the key for me was, it broadened my horizon and gave me a better perspective. What I realized was how great we have it in Chatham-Kent and how it is a beautiful community. There's lots of options and many opportunities to succeed professionally and personally – that's what it really gave me, a better understanding of how good we have it in Chatham-Kent by living in other countries."
Now, Kniaziew hopes that young athletes can look at his path, and see the value of focusing on education alongside academics, and leveraging both facets of their identity to create opportunities for the future.
"Playing University hockey definitely taught me time management, and how to be self driven. When you're playing University sport and taking a full course load, you don't have a lot of time, and that translates well into your professional career because you realize that the majority of your time is dedicated to whatever path or profession you pursue, but you have to make time for yourself, for your community, to give back and volunteer."
The focus on community involvement has stuck with Kniaziew since his Junior and College days. He believes volunteerism is another component in the overall development of young athletes as members of society.
"One of the elements of sport that really helped me as I got older, when I was playing hockey, there was an element of volunteering and giving back to your community as a player, which is something I've always held in high regard," said Kniaziew, who sits on the BIA Board for Downtown Chatham, the Community Futures Development Corporation, and is a part of the 100 Men Who Care Chatham-Kent.
"There is an element that you need to give back to the community. Whether it be sitting on a board or giving your time to a local charity, it is important to give back to your community, just to be engaged. I find there is a lot of value in that, and I encourage young athletes to continue to volunteer."
Kniaziew, who is originally from Leamington, has also shared his love for hockey with his community as a coach with the Sun County Panthers, and his former Junior team, the Leamington Flyers.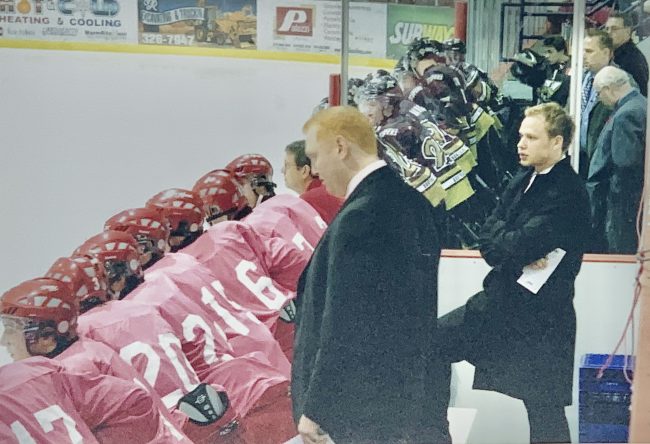 For Kniaziew, it's all about balance. The balance of sport, academics, community involvement, and pursuing a career. With the success of Kniaziew Optometry locally, it seems Jordan Kniaziew's recipe for success has worked, and following the University path for sport is one he hopes more Chatham-Kent youth target.
And he hopes those athletes return to Chatham-Kent following their playing careers, because it's a community he believes in, and advocates for.
"Chatham-Kent is an amazing community to start a business, to be invested in the community," said Kniaziew, who has spent much time travelling the USA to different optometry schools to recruit doctors for their Chatham-Kent and Essex practices.
"We're competing with Toronto and Vancouver to bring there people here. When I talk about all the attributes of this community, how amazing it is to live here, the cost of living is lower than big cities and the accessibility we have to so many facilities, they're really surprised. And when they do choose to come here and they join our team it's the best decision they've ever made to come and settle in Chatham-Kent."
After all, being a part of a team is a component of both sports and business. For Kniaziew, it's all about education, it's about learning lessons through sport, and then returning home to use those skills.
"I want youth to know about the importance of education, and how it can be part of their athletic career, and how there are so many opportunities you can create when you make education your focus."