Jordan Sinclair, A Chatham-Kent Athlete Who Came baCK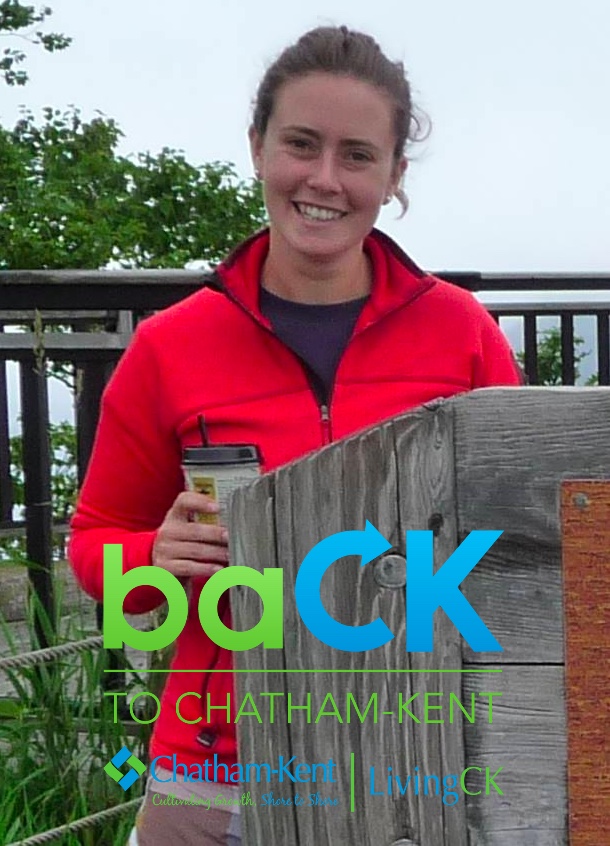 Chatham-Kent sends athletes across Ontario, Canada, and the globe each year to compete athletically. Sponsored by baCK to Chatham-Kent, we'll be featuring local athletes who have left Chatham-Kent, and are now baCK, living, working, and staying connected to our own vibrant sports community in CK.
This week, we feature Chatham's Jordan Sinclair. Jordan played NCAA softball for Wayne State University, achieving a Masters in Math and PhD in Biology from the school, before taking post doctoral positions at Hokkaido University in Japan, and Rice University.
Now, Sinclair is back living and working in Chatham-Kent.
Here are Jordan's responses to our baCK to Chatham-Kent athletes interview:
1. Where did you grow up?
I grew up in Chatham.

2. What is your favourite Chatham-Kent pastime?
I like going to the horse races out in Dresden. My Grandpa used to have horses that raced there when I was a kid and it's something we will still do as a family once in a while.
3. What did you do after high school?
After high school I attended Wayne State University in midtown Detroit on a softball scholarship. WSU is an NCAA Division II school. Over my four years, we went to the regional conference tournament 3 times, and made it to the final 8 tournament once. While playing softball, I got my BSc in Mathematics. I stayed at Wayne State for Graduate school, and got a Masters in Math and then a PhD in Biology. During my time at Wayne State I had the opportunity to do field work in the Nevada Desert, Costa Rica, Northern Minnesota, and Colorado. After receiving my PhD I took a Post Doctoral position at Hokkaido University in Sapporo, Japan studying a small shrub in their northern forests. I then moved to Houston, Texas for a second Post Doc position at Rice University. There I studied how the loss of lemurs is altering the seed dispersal patterns, and subsequent forest composition in Madagascar.
4. What are you doing now?
I now work as a Data Scientist for Deveron Corp. which is precision agriculture company.
5. What has made you happiest, or been the best surprise about moving baCK to Chatham-Kent?
The best part about moving back to Chatham Kent is that I get to be close to my family.
6. What would you tell someone who is considering living in Chatham-Kent?
What would you tell someone who is considering living in Chatham-Kent? I would tell them there is a lot of potential in Chatham Kent. We have a great history as a community, and are becoming more diverse. There is a lot of space and opportunity for outdoor activities including the lakes and provincial parks.
7. Why did you choose to move baCK to Chatham-Kent?
I moved back because a good job opportunity came up, and it allowed me to be close to family.
8. Describe your current sports involvement?
Since moving back I've been playing in various local leagues for fun and to stay active: ladies and coed slo-pitch, Play it Forward, volleyball, and Ringette. I also help out with pitching clinics for CGMSA, and the minor baseball skills clinic when I can.